Let's walk you through how to Create a Facebook Business Manager Account.
Step 1: Create a Business Manager
Click Create Account. You will want to login in with the profile that you used to create your Facebook business page.
Follow the steps to set up your Business Manager
Once Your Business Manager is set up follow the instructions below to add payment methods and assign account access to Optemyz.
Step 2: Set Up Payment Method
1 – Click on 3 lines in top left corner (from desktop)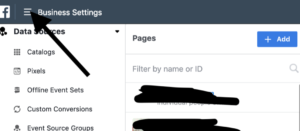 2 – Click All Tools & Then Click Billing